I asked some of my friends for their favorite fruit and vegetable smoothie recipes. Here they are!
Smoothie Recipes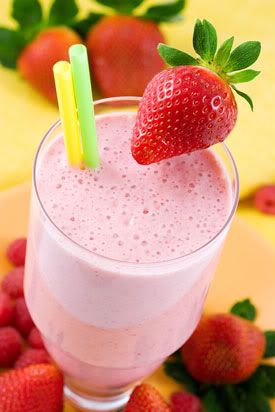 The Tiffany:
Hey Paula! I make a protein shake at home that has the following: 1/2 banana, 1/2 cup frozen berries (any kind), 1 cup soymilk, 2 scoops designer whey vanilla protein, and about a 1 cup spinach or swiss chard– with the exception of the green color I can't tell there is spinach in it!
The Kat:
I think I told you what I do, but one of my favs: banana, spinach, almond milk, peanut butter and choc protein powder. Mmmm mmm! I also love orange juice & almond milk with spinach (its my go to veggie) 1/2 apple, strawberries, and a cutie. Fruity tuity! And I'm a dork.
The Dana:
I make one with pineapple, kale and coconut milk that we like.6 ounces yogurt
8 ounces coconut milk
1 cup pineapple, frozen
1 cup kale, torn into pieces
½ teaspoon cinnamon
Those are rough estimates. I don't really measure. You can also use frozen mango. When I use a lot of veggies, I sometimes add dried dates for sweetness.
The Rema:
Equal parts OJ and unsweetened almond milk, banana or avocado, huge handfuls of strawberries and blueberries (fresh, preferably), an even bigger handful of spinach, squeeze of agave, a tbsp of almond butter, and a tbsp of chia seeds. Go to. It never gets old. An apple is a great addition, too, if your blender can pulverize it well enough.
Steve's Sticky Greens:
Celery sticks, spinach (or any greens), apples, banana, strawberry, almond milk, and vanilla protein powder.
Steve's Jack-o-Lantern:
Pumpkin puree, spinach (or any greens), banana, peanut butter, honey, pumpkin seeds, almond milk, cinnamon and chocolate protein powder.
The Christopher Adams' via Steve:
Sweet potatoes (baked and peeled), spinach (or any greens), banana, chocolate soy or almond milk, chocolate protein powder.
The Perfect Smoothie
Do you ever wonder how much of each ingredient you should put in a smoothie? Check out this perfect smoothie formula from No Meat Athlete !
Thanks Rema for bringing this to my attention!
"The recipe below specifies general amounts and types of ingredients (like "2 tablespoons binder") and then below, you are given a menu of several recommended ingredients of each type from which to choose to make your smoothie.
The Perfect Smoothie Formula
(makes 2 smoothies)
1 soft fruit
2 small handfuls frozen or fresh fruit
2-4 tablespoons protein powder
2 tablespoons binder
1.5 tablespoons oil
1.5 cups liquid
1 tablespoon sweetener (optional, less or more as needed)
optional superfoods, greens, and other ingredients
6 ice cubes (omit if soft fruit is frozen)
Select one or more ingredients of each type below and add to blender in specified proportions. Blend until smooth.
Recommended Soft Fruits
(If you have a high-speed blender that can puree, say, a whole apple or carrot without leaving any chunks behind, then the puree of almost any fruit or vegetable can act as your soft fruit.)
Recommended Frozen or Fresh Fruits
Strawberries (you can leave the greens on if you have a powerful blender)
Blueberries
Blackberries
Raspberries
Peaches
Mango
Pineapple
Recommended Protein Powders
Hemp
Sprouted brown rice (tastes chalkier than hemp, but packs more protein per dollar)
Pea
(Soy and whey are higher-protein, generally cheaper options, but for a variety of reasons I don't recommend either for long-term use.)
Recommended Binders

Ground flaxseed
Almond butter or any nut butter
Soaked raw almonds (soak for several hours and rinse before using)
Rolled oats, whole or ground
Udo's Wholesome Fast Food
Recommended Oils
Flaxseed oil
Udo's Blend or other EFA blend
Hemp oil
Coconut oil
Almond, macadamia, or other nut oil
Recommended Liquids (unsweetened)
Water (my favorite)
Almond milk or other nut milk
Hemp milk
Brewed tea
Recommended Sweeteners
Honey (not technically vegan)
Agave nectar (high in fructose, so choose this only before workouts)
Stevia (sugar-free natural sweetener, the amount needed will vary by brand)
Optional Superfoods, Greens and Other Ingredients
Cacao nibs (1-2 tablespoons)
Carob chips (1-2 tablespoons)
Ground organic cinnamon (1-2 teaspoons)
Chia seeds, whole or ground (1-2 tablespoons)
Greens powder (1-2 teaspoons)
Whole spinach leaves (1-2 handfuls)
Maca powder (1-2 teaspoons)
Jalapeno pepper, seeds and stem removed (one small pepper)
Ground cayenne pepper (small pinch)
Sea salt (pinch)
Lemon or lime juice (1 tablespoon)
There's plenty here to get you started.  But you certainly don't have to stay within these guidelines if you determine that you want more or less of a certain ingredient, or more than one ingredient from each category. (For example, almond butter and ground flaxseed are both in the "binder" category, but I sometimes include both in my smoothie.)
Also, note that which ingredients you use from one category often dictate how much you need from another.  For example, if you're using avocado instead of banana as your soft fruit, you'll need more sweetener than you would with the banana, and you'll probably want to go light on other fatty ingredients, since avocado provides plenty of good fats."
Do you have a favorite smoothie recipe? Comment below with your recipe!
Source: http://www.nomeatathlete.com/the-perfect-smoothie-formula/
Images: Squidoo